Worship
Blank space
We worship every Sunday morning at 10:00 am in our historic sanctuary at 6 Meetinghouse Hill Rd in Sterling, MA. You can park in front of the church, or in the municipal parking lot next door, or behind the town hall.
blank space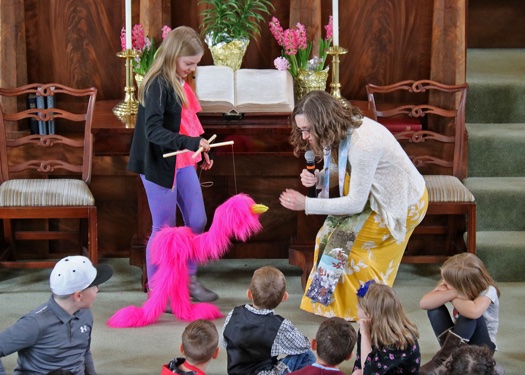 What is a typical worship experience like?
Usually led by our pastor, The Reverend Robin Bartlett, our dynamic, spirited, and stimulating worship services are on Sunday mornings at 10:00 am. We are moved deeper into worship by one of our fabulous First Church choirs, led by our Minister of Music, Ronna Davis. As worship co-creators, we strive for "goose bump moments," plenty of laughter, and even tears when we worship together.
What Should I Expect?
You'll find a relaxed, casual atmosphere with genuinely warm and friendly people at First Church. You will be met at the door by greeters who hand out name tags and get new folks oriented. Ushers hand you a bulletin (an order of the worship service). The service begins with prayer, reflection and a hymn. A time is reserved for our minister to speak directly with the children, after which the children head off to Sunday School. Scripture readings and an engaging, relevant, sometimes funny and occasionally irreverent sermon are followed by prayers of the people, the occasional beautiful ritual, more hymns, and the weekly offering. We end with prayer and a final hymn. Services usually last about 1-1¼ hours.
We serve Holy Communion on the first Sunday of every month. All are welcome at our communion table—children and adults of all ages, members and non-members and guests, those who believe a little, those who believe a lot, and those who aren't sure, whether you're baptized or not–absolutely no exceptions.
We have special services at least once a month according to the liturgical year including a Blessing of the Animals, an All Souls Sunday candlelighting service, a Thanksgiving celebration and Christmas Eve services. We have Holy Week services including Ash Wednesday, Palm Sunday, Maundy Thursday, Easter Sunrise and Easter Festival worship. Please check our calendar and events pages for more information.
Children and babies of all ages are ALWAYS welcome to worship with their caregivers, and on some special Sundays throughout the year, all ages are encouraged to worship together. We provide safe and loving childcare for babies, toddlers and young children during our worship time in our Kinderwatch room every Sunday.
Sunday School meets on Sundays during worship for preschool to 8th graders. Children join us in worship for the first fifteen minutes before being dismissed to Sunday School classes. On the first Sunday of the month, children go straight to their classes, and join us for communion in the sanctuary at the end of worship. We practice open communion, and children of all ages are invited to participate in the sacrament. In the summer, we meet for worship as usual, with childcare for all ages.
What should I wear?
Our only dress requirement is "wear clothes." Come as you are. We care about you, not your clothes. You will find people at the First Church in their Sunday best, and you will find people in jeans and t-shirts. So dress as you like, and join us in comfort.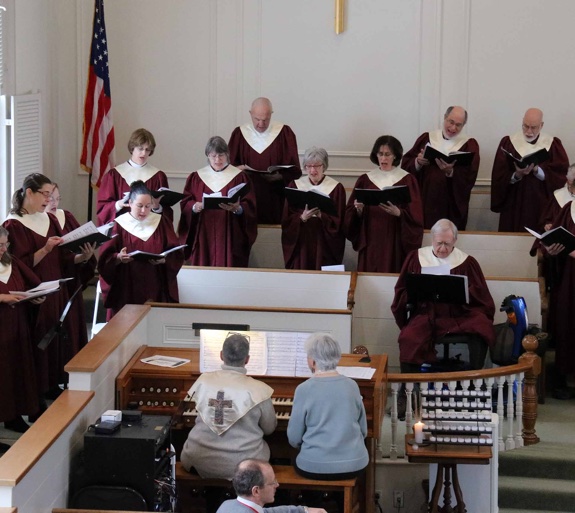 Music at First Church
Blanksksk
First Church has active Adult, Contemporary, and Bell Choirs. What is your artistic spiritual expression?

 

Do you like to sing, or play an instrument?

 

Our Minister of Music, Ronna Davis, practices the mantra:

 

"participation, not perfection." First Church provides an opportunity for musicians to nurture their artistic expression and they are guided to do so in ways that enhance their abilities.

 

Ronna's goal is that everyone is given the opportunity to grow and be nurtured in their musical expression.

 

All ages and all genres of music are honored and appreciated at The First Church.
First Church Choir
The wonderful First Church choir requires no audition or previous experience, and sings every Sunday from early September-early June. The choir rehearses on Friday evenings at 7:00 pm in the sanctuary, and follows up with merriment at a local bar immediately following. They rehearse again on Sunday mornings at 9:00 am. If you are interested in joining the choir, please email our Minister of Music, Ronna Davis at music@fcsterling.org
Contemporary
The Contemporary Choir sings at various times throughout the year. Typically, a couple of rehearsals precede the church performance. Music is of many genres and is typically accompanied by electric guitar, piano and other rhythm/percussion instruments.
Cindy Popp-Hager is our contemporary choir director. If you are interested in more information, please contact her at: cindypopphager@comcast.net
Bell Choir
The First Church has a low-pressure and fun bell choir. The First Church was blessed with a gift from the late Jim and Marian Stuart, a 3-octave Schulmerich handbell set that the First Church bell choir rehearses and performs with.
Rehearsals are each Sunday from 11:20 – 11:50 am. Bell choir runs in two calendar sections. The first section is from October through Christmas. The second section is from February through Easter. All are welcome to inquire about membership. Musical experience is not required. If you are interested in learning more about joining either one or both semesters of the Bell Choir, please email Ronna Davis: music@fcsterling.org
blank
Community
Blank
After the service, all are welcome to attend a coffee hour, where beverages, snacks, and a chance to gather as a community is encouraged. Look below to read about other ways to be connected!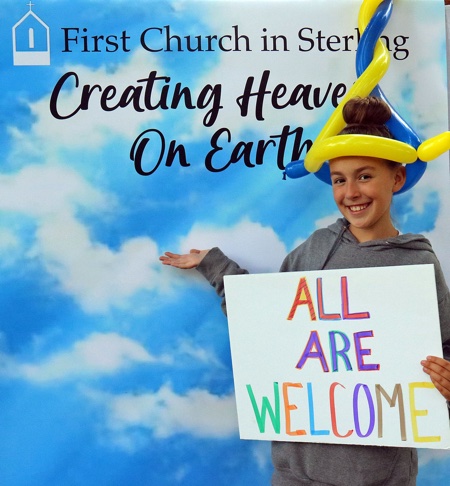 Village Green Preschool
Founded in October 1980, the Village Green Preschool is a community outreach program of the First Church.  It is nonprofit and nonsectarian and welcomes all children 2 years & 9 months to 5 years from Sterling and the surrounding area.
The preschool offers a developmentally based early childhood program designed to foster maximum growth in the following areas:  communication and language, socialization, self-expression, values, aesthetic appreciation, physical skills, intellectual competency and personal autonomy.   Class sessions meet two or three days per week either in the morning (9:15 – 11:45 AM) or in the afternoon (12:30 – 3:00 PM).  Registration is held each year in January for the following September and thereafter on a space available basis.
Village Green Preschool is licensed by the MA Dept. of Early Education and Care (DEEC) and is accredited by the National Association for the Education of Young Children (NAEYC).  We invite you to schedule a visit or to call the Director, Linda Greene for additional information.
(978.422.8256)
http://www.villagegreenpreschool.org
Sterling Community Theatre
One day in the Spring of 1996, a church member named Susan Galvin looked at the unused stage in the Parish Hall of The First Church in Sterling and asked, "What do you think about starting a community theatre here?" By that Fall, she and a group of The First Church members produced Sterling Community Theatre's first show, Godspell. The company was born.
Sterling Community Theatre's mission is "to provide an outreach of fellowship and cultural enrichment by facilitating a quality theater/arts oriented experience within the greater Sterling community, centered on family and community values."
Each year, the Sterling Community Theatre produces a musical theater production in the fall. Each production involves upwards of 50 to 75 people from Sterling and surrounding towns. The result is first class performances that are appreciated by all, from the very young to the not-so-young.
See Sterling Community Theater's website for more information:
Town-wide Yard Sale
We host the annual Sterling town-wide yard sale to benefit our children's and youth programs and the funds raised provide scholarships to youth at First Church.
Turkey Supper
Our annual turkey supper happens every October, is open to all, and benefits our church's ministries. A wonderful town-wide event, we serve turkey with all of the fixings, and delicious apple crisp.
Eat, Pray, Learn
On the third Wednesday of every month from October-May, First Church hosts a multigenerational evening of learning, worship and fellowship. We gather for a simple meal of soup and bread, have a short worship service, followed with children's activities and adult spiritual development opportunities. See our events page and calendar for our next Eat, Pray, Learn experience.
Women's Fellowship
Our women's fellowship meets monthly, and includes multiple opportunities for spiritual development, friendship and service. Our annual women's retreat in the fall is one of our most beloved ministries.
Knit Wits
Knitters meet monthly to knit prayer shawls for community members in need. See our calendar and our events page for upcoming meetings.
Pub Theology
A group of people who meet at Barber's Crossing for good food, good drinks, and good discussion about church in the 21st century. See our events page for upcoming events.
Young and Youngish Adults
Our 20s/30s(ish) group meets monthly for community, friendship, deep discussion and connection. See our events page for more information.
Aging Gracefully
Aging Gracefully meets on the second and fourth Thursdays of the month at 9:45 am. A ministry for seniors, the group talks about everything from the big religious questions (Why are we here? Who and What is God? What happens when we die?) to how to engage with adult children. See our calendar and events pages for more information.
Holly Berry Brunch
On the first Sunday in December, we serve up a hearty brunch after worship service: usually eggs, danish, toast, coffee, milk, juice, and fruit.  It's a great time for fellowship, and helps us raise money for outreach activities.
Caribbean Dinner
Our annual Caribbean dinner and silent auction to benefit our missions in La Romana happens every winter. Please see our events page and calendar for more information.
Treasures of the Community Auction
We ask… What will you do today that will matter tomorrow?
The Treasures of the Community Auction Committee raises funds for the La Romana Mission in the Dominican Republic, the Interfaith Hospitality Network's outreach work with families who are homeless in the Worcester area, and The First Church in Sterling programs and facilities.
Today, we ask you to help us make tomorrow matter, so that…
Hundreds of families will find temporary shelter in the congregations of the Interfaith Hospitality Network, enabling them to save money toward a place to call their own — a hand up, not a handout.
Thousands of impoverished adults and children living in the sugar cane field villages of the Dominican Republic will see a doctor and receive medicine at an onsite clinic.
Thousands of local people will use the First Church facilities for events, Scouts, family gatherings, theater, and more, as they have for generations.
The Good Samaritan General Hospital in La Romana, Dominican Republic, will continue to expand and improve as Sterling volunteers assist local workers with construction.
The First Church in Sterling, a model of ecumenical and interfaith conversation and tolerance will continue to enhance the Sterling community with its advocacy and outreach, programs and events.
For more information about First Church's annual auction, please see: https://www.fctreasures.com
First Saturday Meals
On the first Saturday of every month from September to June, First Church hosts a free Saturday lunch for the community. Led by volunteers and featuring live entertainment, this is a great opportunity to eat delicious food and get to know fellow members of the community. See our events page for upcoming Saturday meals.
blank
Join our Community
blank
Pastor Robin is always available to people new to our church, by appointment. If you would like to schedule a meeting with Pastor Robin, please email her at

robinwbartlett@gmail.com

, or call her: (617) 717-4011. Read below to learn how to join our community!
Meet the Minister Coffees
We have monthly opportunities to gather immediately following worship with Pastor Robin for informal conversations about First Church and its many opportunities for service and community. Please see the events page and calendar for more information.
Path to Membership Classes
For people interested in finding out about making a deeper commitment to the church through membership, these classes, led by Pastor Robin, connect new people to one another, and invite folks to learn more about our church. See events page and calendar for upcoming classes.
New Member Sundays
We have 2-3 new member Sundays per year, to celebrate and affirm our new members. Please see the events page and calendar for upcoming new member Sundays.