Education
At The First Church in Sterling, Christian Education and Formation is for all ages, beginning with our children in Pre-Kindergarten through adulthood. Our youngest children are cared for in the Kinderwatch Room through age 2. There is a thriving and vibrant Sunday School program beginning with the 3-year-olds through Grade 8. Confirmation Class is a two year program for students in grades 7 and 8. Our high school youth group provides opportunities for connection, service, and fun for youth in grades 9-12. Adult Education takes many forms throughout the year. Scroll down to view varied offerings for adults.
blank
Contact our Director of Lifespan Faith Development with questions about our religious education programming at 

education@fcsterling.org

.
We Welcome Families in Worship

As we gather in the spirit of Jesus, and commit ourselves to creating heaven on earth, it is in that spirit that we welcome all God's children, of all ages, as we grow in faith together. We know that God created children to be full of energy. We also know that they can learn and pay attention best when they have something to do, especially with their hands. As you come through the front door, you will see our Welcome Table and greet our Sunday Welcomers. You will see a basket of Pew Friends — stuffed animals for those who need a friend to snuggle during worship. We also have Worship Packs with writing/coloring implements, paper bookmarks (for keeping track of hymns & songs), a storybook, and chenille stems to keep little hands busy. Worship begins at 10:00 a.m. every Sunday. Children join their parents/caregivers and families for the first 15-20 minutes of the service, and then are "sung out" by the congregation to go to their Sunday School classes with their teachers. Approximately once a month, we hold a Multigenerational Sunday in which the children remain for the entire service, and offers something for everyone of all theological abilities, engaging all five senses. On the first Sunday of each month, Sunday School children (through Grade 8) go straight to their Sunday School classes downstairs to begin at 10:00 a.m., and then return to the sanctuary near the end of the service to sit with their families for Communion.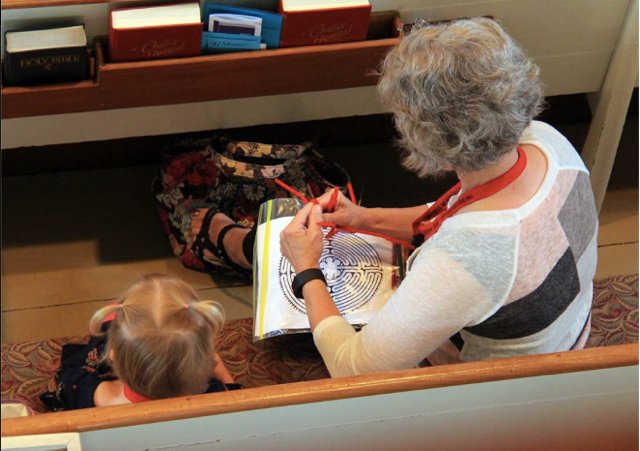 Babies and toddlers: Kinderwatch
We have a safe and loving nursery for babies 0-2.9 staffed by attentive teens and adults during our worship service. There are age-appropriate toys for our littlest parishioners and tender care by our staff.
Preschool-2nd Graders: Spirit Play
We offer Spirit Play, a Montessori-based approach to assist our youngest Sunday School children in acquiring appreciation for worship and ritual. Spirit Play encourages children to wonder about their questions, such as, "Where did we come from?" "How do we choose to live our lives?" "What happens when we die?" using the stories and lessons we find in our scriptures. Rather than giving simplistic answers, specially trained adult facilitators embrace children's natural wonder about God.
Each lesson in Spirit Play begins with opening words, a song, and an invitation into the circle. Stories are told using beautiful objects on a felt underlay. Children are encouraged to ask wondering questions, and then work with the story in their own way—through art or by telling it themselves. A "feast" (simple snack) is shared. Children are encouraged to take stories home and tell them there.
Montessori Philosophy:
Encourages independent thinking through wondering questions.
Gives children real choices within the structure of the morning.
Creates a community of children in a classroom of mixed ages
Develops an underlying sense of the spiritual and the mystery of life.
3rd-5th Graders: Feasting on the Word
Our middle and older elementary age children discover the Bible through the Feasting On the Word curriculum materials (www.FeastingOnTheWord.net). This approach is lectionary-based, which means that intentional connections between Sunday School and worship are made every Sunday.
The goals for each session are to assist the teacher in:
Introducing biblical stories in new and creative ways.

Gathering the children together with age-appropriate learning activities. 

Challenging the children to put their faith into action and grow in their self-understanding as Christians. 

Preparing the children for the worship and service of God. 
6th – 8th Graders: Building Bridges
Building Bridges is a world religions program to deepen youth's understanding of the dynamic, fascinating, and varied world in which they live. It seeks to broaden their knowledge of humanity and embolden their spiritual search.
The program is organized roughly chronologically, capturing the strong parallel between societal change and religious evolution over human history. The Religions Time Line helps illustrate the emergence of religions in clusters at different points in history. However, this is not a history course. It is a series of workshops that attempts to lovingly and reverently examine some of the closest kept treasures of the human heart. This exploration nurtures participants' positive outlook toward other faiths and the people who follow them.
These youth and their teachers regularly visit neighboring congregations of various faith traditions to experience how they worship.
7th-9th Graders: Our Whole Lives (Confirmation Year 1)
The Our Whole Lives curriculum (http://www.uua.org/re/owl) is a nationally-recognized and prized sexuality education program in both secular and church settings. It is value-based so that the focus is on guiding the teens in a respect for the human body alongside a respect for others. This is the basis for a healthy, safe, and responsible approach to one's sexuality. This class meets two Sundays a month from 5:00-8:00 p.m. beginning on October 2nd and concluding on May 21st.
While parents are the primary sex educators for their children, we believe that the church should be the first place for families to turn for support. The church is where our children and youth can acquire the values to make healthy decisions and choices, especially as they are constantly inundated with secular and sexual messages from our culture. As well as providing accurate information about sexuality in a safe, non-judgmental environment, the church also provides support for parents in this turbulent time in their children's lives.
8th and 9th Graders: Confirmation (Year 2)
Confirmation class is taught by our Director of Lifespan Faith Development. This class will be made up of the participants in the Our Whole Lives program from the previous year. Combining both experiential learning (congregational visits, mission trips, confirmation retreat) and classroom time with mentors, our confirmation class is a combination of Bible Study, ethics, good decision-making, and theology — an explanation of God, Jesus Christ, the Holy Spirit according to the understandings of the progressive Christian traditions of the United Church of Christ and the Unitarian Universalist Association. This year of confirmation sessions culminates in a confirmation worship service in May in which youth share their statements of faith.
High School Fellowship
The high school youth group meets on the first and third Sunday of every month from 11:30 a.m. to 1:00 p.m. with fun and caring adult leaders. The youth group experience provides social connections for our church youth. It also offers opportunities to foster leadership skills and acquire tools for navigating life while guiding them in understanding that they are part of something bigger than themselves. 
Adult Spiritual Development
Eat, Pray, Learn
On the third Wednesday of every month from October-May, First Church hosts a multigenerational evening of learning, worship and fellowship. We gather for a simple meal of soup and bread, have a short worship service, followed with children's activities and adult spiritual development opportunities. See our events page and calendar for our next Eat, Pray, Learn experience.
Aging Gracefully
Older adults are invited to join a small group of folks who meet twice a month on Thursday mornings to talk about common issues, share experiences, reflect and pray together.  Recent topics have included Dealing with Life Changes, Living with Gratitude, Relationships with Grandchildren, and Dealing with Loss. Questions are provided early, to allow for reflection ahead of time.  In the safety of the small group, folks may share as much or as little as each chooses, in an atmosphere of respect and trust.
Barb Dumont leads this small group.  Contact the church office at 978.244.6657 for more information.
Sunday Book Group
Each Sunday after worship, this small group meets to discuss a book they have been reading together.  Books are chosen to stimulate thought and conversation about today's Church. Authors have included some of the leading voices in the progressive church movement, such as Nadia Bolz-Weber, Matthew Fox, and  Robin Meyers.
David Russo leads this small group. Contact the church office at 978.422.6657
Retreats
Opportunities for women's retreats and adult retreats give us the chance to connect with each other on a deeper level in a relaxed atmosphere. Please see the calendar and events page for more information.
Pub Theology For All
Led by our pastor, this is a group of people who meet at a local bar for good food, good drinks, and good discussion about church in the 21st century. ALL are welcome, whether or not you are a member. See our events page for upcoming events.
Pub Theology for Young and Youngish Adults
Our 20s/30s(ish) group meets monthly for community, friendship, deep discussion and connection. See our events page for more information. All our welcome! Please bring friends.
Watercolor with Charlie
Class meets on Monday mornings from 9:00 to 11:00 a.m. in Room 2. New students are always welcome! Led by Charlie Gray, a Rutland resident with years of experience in the field of making, teaching, and selling art. You may view some of his oil paintings at charlesgrayfinearts.blogspot.com. The best part? It's free! Just supply your own materials after the first session.