The Reverend Robin Bartlett, Senior Pastor
Pastor Robin was called as Senior Pastor to the First Church in Sterling in May of 2014. Born and raised Unitarian Universalist in Concord, NH, Pastor Robin was ordained on October 27, 2013 at First Parish in Brookline, MA, and holds dual standing in the Unitarian Universalist Association and the United Church of Christ. Robin is a 2013 graduate of Boston University School of Theology (Masters of Divinity), and holds a Master of Arts in Counseling/Psychology from Lesley University in Cambridge, MA. She has served congregations in Boston, Milton, Brookline and Sherborn as religious educator, youth minister, and intern minister. Pastor Robin is passionate about multigenerational ministry, prayer, youth ministry, preaching, and worship co-creation. She believes that religion's purpose is to grow souls, and repair the world, and therefore she is a passionate follower of Jesus. At First Church, Pastor Robin supervises the staff, collaborates with leaders to fulfill the mission and vision of the church through excellent programming and outreach, provides pastoral care and counseling to the First Church Community, and preaches and teaches the Gospel, which she firmly believes has everything to do with Love.
You can contact Pastor Robin via email: pastor@fcsterling.org, or, in the case of a pastoral emergency, on her cell phone: 617-717-4011.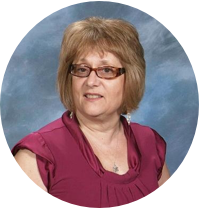 Helen Hill,
Office Manager
Helen Hill has been our administrator since 1995, filling a varied role that includes being a receptionist, scheduling church building use, producing church publications including the newsletter and the bulletin, helping to manage budget, finances and payroll. Helen makes sure everything in the building is in working order. She is passionate about the theater, and lives in Sterling with her husband, Bob, and two sons.
You can contact Helen at: admin@fcsterling.org
Ronna Davis,
Minister of Music
Ronna Davis has served as Organist and Music Director since 1983. Through her warm, person-centered approach, she has helped First Church adapt to changing musical styles and involved many people in its music program. She encourages both children of all ages as well as adults to bring their instruments and talents to enrich the worship service experience. Ronna loves playing music and lives in Sterling with her husband, John.
You can contact Ronna at: music@fcsterling.org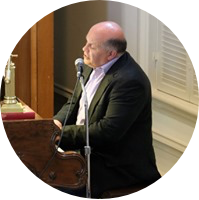 Joel Hiller,
Musician
Joel Hiller is a jazz musician who has written jingles, taught private piano/voice lessons at Milton Academy, played in many jazz and rock bands including the Joel Hiller Band, worked as a DJ and musician on cruise ships, and recorded several solo albums. In addition, Joel led the contemporary and children's choirs at First Parish in Milton from 2007 to 2018. Joel loves working for an institution where music is an expression of deep relationship to the Holy, and where he can share his gifts in worship leadership and music composition. Joel lives in Milton with his family.
The Reverend Doctor Jonathan Wright-Gray,
Pastor Emeritus
Jonathan Wright-Gray served this church from 1980-2011 when he retired, and oversaw its growth in membership, mission and service to Sterling. Jonathan was a beloved pastor of the town of Sterling, is known for his commitment to ecumenism, and his mission work in La Romana, Dominican Republic.  Jonathan oversaw the creation of beloved ministries of the church such as the Sterling Community Theater and the Village Green Preschool. He led countless worship services, counseled countless people, led canoe trips and missions, housed homeless folks inside our building, and presided over 387 baptisms, 229 wedding ceremonies and 317 funerals while he was with us.
Jonathan gives back to the church in gratitude for the many years this church has given to him—in the form of guest preaching, leading retreats and adult religious education opportunities, and his wise counsel to Pastor Robin, among other things.